20 Best WordPress SEO Plugins SEO has been the name of the online game ever since search engines existed. It has always been a race to the top of that coveted search results page. The higher you are on the list, the more visitors you would likely get. That's a fact.
A recent study conducted by ahrefs using their Content Explorer tool found out that 90.63% of all the pages in their index got zero traffic from Google. That means of all the pages that they have in their database (over one billion pages) only 9.37% of them got any traffic from Google.
With a few caveats from that study aside, it's clear that only a fraction of the pages online gets any search ranking, much less traffic, at all.
And here's where SEO comes in. SEO stands for Search Engine Optimization and it's the practice of increasing the quantity and quality of traffic going through your website via organic search engine results.
Simply put, SEO is making sure your page or website ranks as high as possible in search engine searches to ensure the highest number of traffic possible.
Out of the box, WordPress is pretty decent with SEO, especially the newer versions. However, there is still a lot of room for improvement. Especially behind the scenes. Since SEO has come a very long way from simple link building and adding a bunch of keywords.
And of course, as with anything WordPress, there are plugins for that. It's simply the easiest way to deal with improving your site SEO.
And in this article, we're going to discuss a few of our top-picks for your must-have SEO plugins for 2022 .
Let's begin.
Table Of Contents
What Is a WordPress SEO Plugin?
Why Do You Need a WordPress SEO Plugin?
What To Look for in a WordPress SEO Plugin?
Top 25 WordPress SEO Plugins
FAQ on WordPress SEO Plugins
Conclusion
Load More :
What Is a WordPress SEO Plugin?
An SEO plugin is a tool that you can install on your WordPress site that will help you improve your overall position in search engines through implementing various required metadata.
It seems simple enough, right? So just get one and let it work it's magic, right?
Well…It's not that easy.
Why Do You Need a WordPress SEO Plugin?
As mentioned before WordPress is already decently optimized for SEO from the get-go. With exceptional content and an already established niche and clientele, you're already likely to rank a few levels higher on search engines than most other pages with the same category. But even then, most pages still have trouble with both keeping their visitors or gaining new ones.
Since SEO crawlers from most search engines don't just take content and layout into account, there's still a lot of things that can be improved. And most of these settings are either extremely hard to get to and set up, or not visible at all with a bare WordPress install.
That's where the plugins come in. WordPress SEO plugins give you the option to set and change certain settings specifically to your WordPress set up. These can either be applied to a global(whole site), per post, per page or per category or any combination of settings.
These settings or options include:
Post metadata
Sitemaps
Open Graph metadata
Search snippets, featured images, and descriptions
Main keywords
Breadcrumb settings
And Search Console settings
What To Look for in a WordPress SEO Plugin?
There are a lot of SEO plugins out there. And you can't just install them all and wait for your visitor count to go through the roof.
It's always helpful to make sure that the plugins that you are installing to your WordPress site match the features that you need.
Ideally, you need SEO plugins that would allow you to change/set the following easily and just as a beginner would:
Main post/page keywords – these are the main keywords that tell what your page/post is about and would uniquely identify your page with search engines.
Social Media Snippets and Display – this is called Open Graph metadata, the information that is displayed and called by social media platforms whenever someone shares your content/URL on their social media platforms. These may include:

Featured images
Excerpt
Title
Author
Domain
Publishing date, etc.

Mobile and Desktop Search Snippets and previews – how your post/page is displayed on search results.
Sitemaps – the basic map that search engines follow when visiting your site. This helps search engines quickly identify which pages allow indexing and which don't
redirection tools – these tools help resolve DNS/URL redirections from page to page and can count for or against your SEO Score so managing these is important too.
Trackers and analytics tools – these are the tools where they may not be directly affecting your SEO score, they can surely help you figure out which sections require more optimization than others by giving you the exact numbers that you need.
These are just a few things to keep in mind, but among these features, we'd, of course, need to be looking at reviews, usability, pricing, and overall performance of these plugins
It's best to avoid having more than two SEO plugins that have the same features as each other since this will most likely cause conflict and potentially even damage your SEO ranks.
Top 25 WordPress SEO Plugins
Here are the top 5 SEO plugins you should definitely have to make your website SEO friendly.
| | | |
| --- | --- | --- |
| Plugin | Ease of Use | Pricing |
| Yoast SEO | 9/10 | Free, Pricing starts from $89 year |
| Schema Pro | 10/10 | $79 Year, or $249 One-time |
| Rank Math | 8/10 | Free, Pricing starts from $59 year |
| WP Rocket | 8/10 | $49 Year to $249 Year |
| ShortPixel | 8/10 | Free / Pricing starts from $3.99 Month |
Let's compare the top SEO plugins for WordPress!
1. Yoast SEO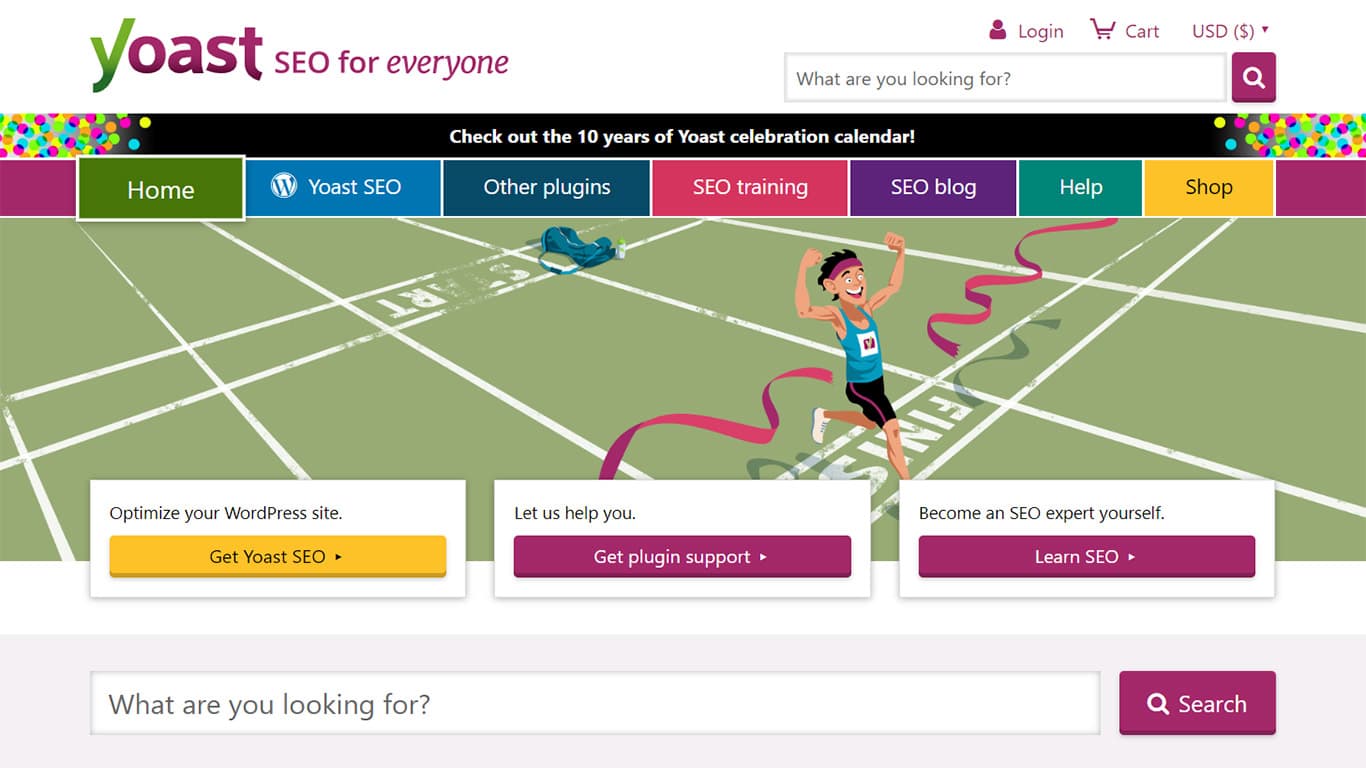 Yoast SEO is a popular WordPress SEO plugin with over 5+ million active installations. This plugin has become the go-to solution for a lot of WordPress users with skill levels ranging from beginners to experts.
Yoast easily lets you add SEO titles and descriptions to all posts and pages on your website. You can also add Open Graph metadata for your social media pages along with automatically generating an XML sitemap for your site.
Top Features
Among Yoast's top features include:
Being able to create cornerstone content and internal linking features to help with ranking with the right keywords
Manage Social Media metadata separately from the posts or pages
Add title and meta description with templating for brand consistency
Full control over site's breadcrumbs
Automatically set canonical URLs avoiding duplicate content
Webmaster tools verification via Google, Bing, Baidu, Yandex, etc
Exclude certain types of content from being indexed in search engine results.
That and so much more. Most of their cooler features are for premium users only.
Pricing
Yoast is a freemium plugin, meaning there are a lot of basic features that are available to you from the start. And these features alone are very powerful and can already help you stand-out among your competitors. You can download the free version from WordPress.org.
But Yoast also comes with a Premium version for $89/year with free updates and support.
The premium version includes features like multiple keywords for more optimized content, automatic internal linking suggestions, redirect manager, among others.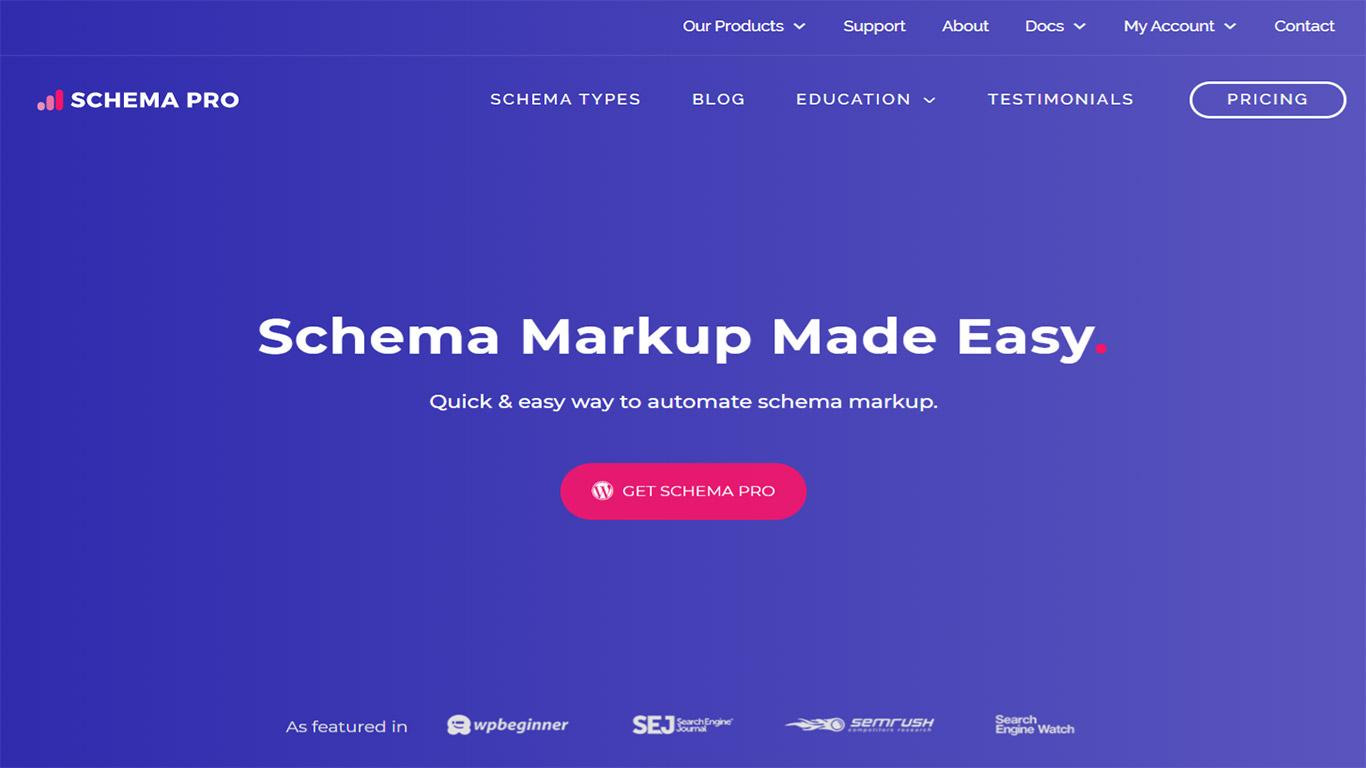 Schema Pro is a plugin developed and maintained by Brainstorm Force – the same team who brought you, Astra! This plugin complements its free counterpart. It is an excellent plugin in making your websites look attractive.
With Schema Pro plugin, your site will appear in search engines with ratings, costs, features and other pieces of relevant information. The aesthetics of your rich snippet catches people's attention and makes your site look more professional, and Google places more value to websites that are more likely to get clicks.
Schema is as vital as a site's content. Brainstorm Force built this plugin to give you the option to add Schema and display Rich Snippets in search engine's search results.
Schema Pro supports all kinds of schema markup. You will have professional support from the team of experienced developers.
Top Features:
Some of it's best features include:
JSON-LD output that complies with Google's recommended standards
A complete guide to starting the page set up to make sure you don't have to stress over it
Includes feature-rich types of schema
Support for Custom Fields
Easily extendable, and lightweight
Pricing:
You can purchase Schema Pro either independently or as part of Astra's Growth Bundle.
Annual Subscription
Plugin Alone – 

$59

 per year
Growth Bundle – 

$174

 per year
Lifetime Subscription
Plugin Alone – 

$174

Growth Bundle – 

$625

 includes all of Brainstorm Force premium products such as Schema Pro, Astra Pro, Convert Pro and so much more.
3. All in One SEO Pack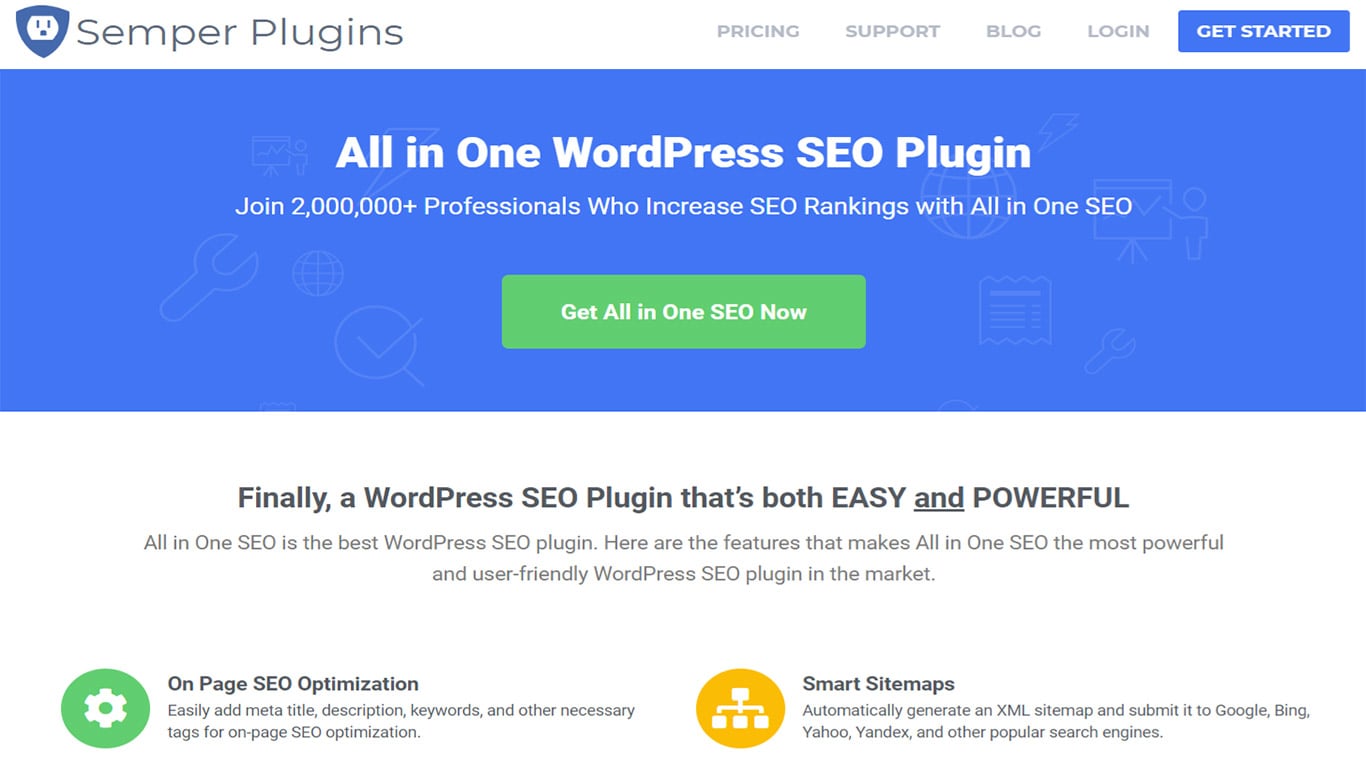 All in One SEO Pack is a plugin even older than Yoast, boasting itself to be the "Original WordPress SEO Plugin." With over 2+ million active installs, this plugin is also one of the most popular ones when it comes to SEO plugins for WordPress.
All in One SEO Pack has most of Yoast's features but is slightly more customizable and flexible with some added juice of its own, one of which is having support for AMP meaning it can easily integrate with the official AMP WordPress plugin out of the box.
Top Features
Some of its top features include:
Easily add SEO titles and meta tags
Add Open Graph Meta tags
XML Sitemap support
google analytics support
Schema.org Markup
Advanced Canonical URLs
Support for SEO on Custom Post Types
Automatically notifies search engines like Google and Bing about changes to your site
Built-in API so other plugins/themes can access and extend the functionality
ONLY free plugin to provide SEO Integration for e-Commerce sites, including WooCommerce
Pricing
All in One SEO Pack is free to download from WordPress.org.
But for premium features such as being able to edit your .htaccess file without FTP, or edit your robots.txt file, or block "bad bots" including referral spam, you'd have to get the Premium version.
Individual – $79 per year – Single Site
Business – $139 per year – Up to 10 Sites
Agency – $699 per year – Unlimited Sites
4. WordPress SEO Plugin by Rank Math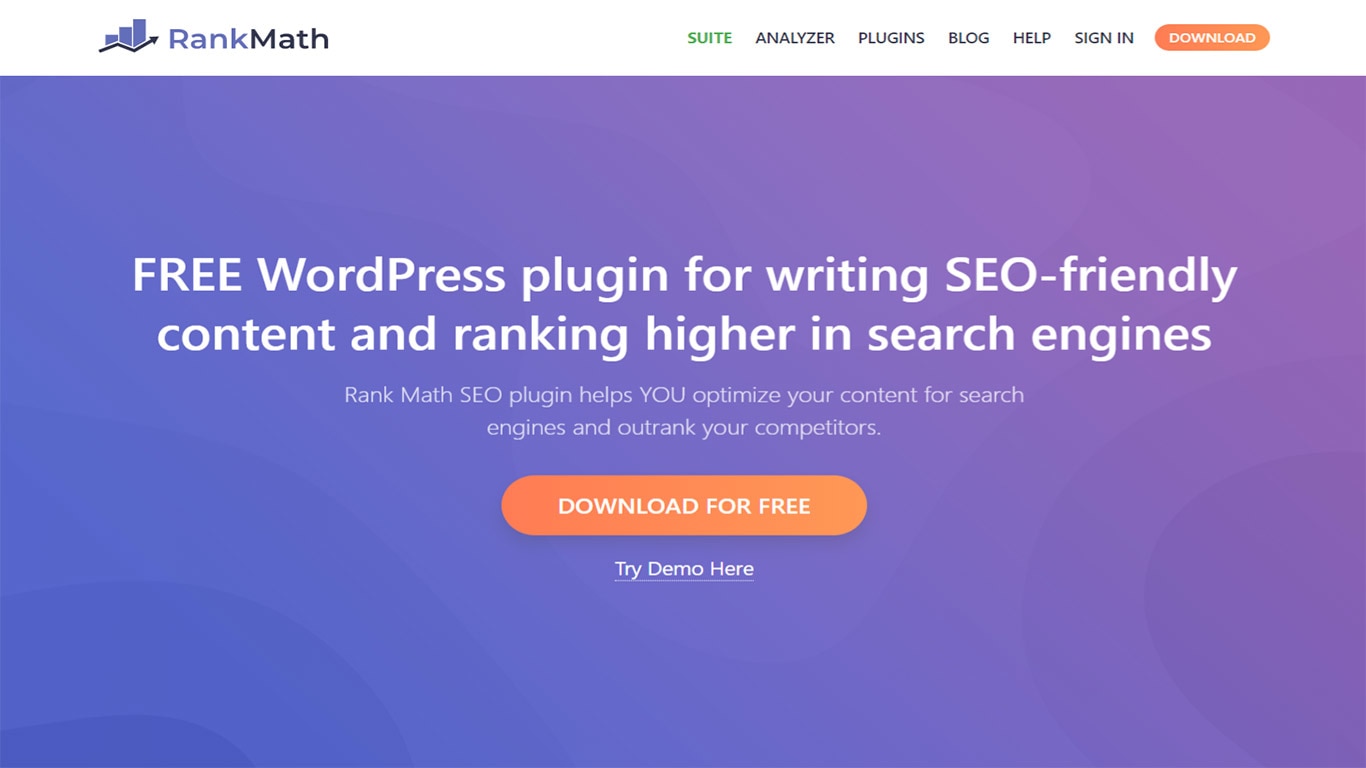 Rank Math is one of the most powerful, fast-growing, and user-friendly SEO plugins out there. It allows you to optimize your site for search engines and social media easily.
With Rank Math, you can easily add meta titles, descriptions, and Open Graph metadata. You can also generate an XML sitemap, be able to connect your site to Google Search Console, and set certain plugin features only for certain user roles.
Top Features
Rank Math's powerful features include:
An easy to follow Setup Wizard
Integrated Google Schema Markup (Rich Snippets)
Unlimited Keywords
Search Console Integration
Google Keyword Ranking
404 Monitors
Content Analysis Tests
Internal Link Suggestions
Role Manager
Multisite Ready
Advanced SEO Analysis Tool
Optimized and minimal lines of code versus other SEO plugins
Pricing
Rank Math for all it's wonderful and amazing features is free. Absolutely free!
5. The SEO Framework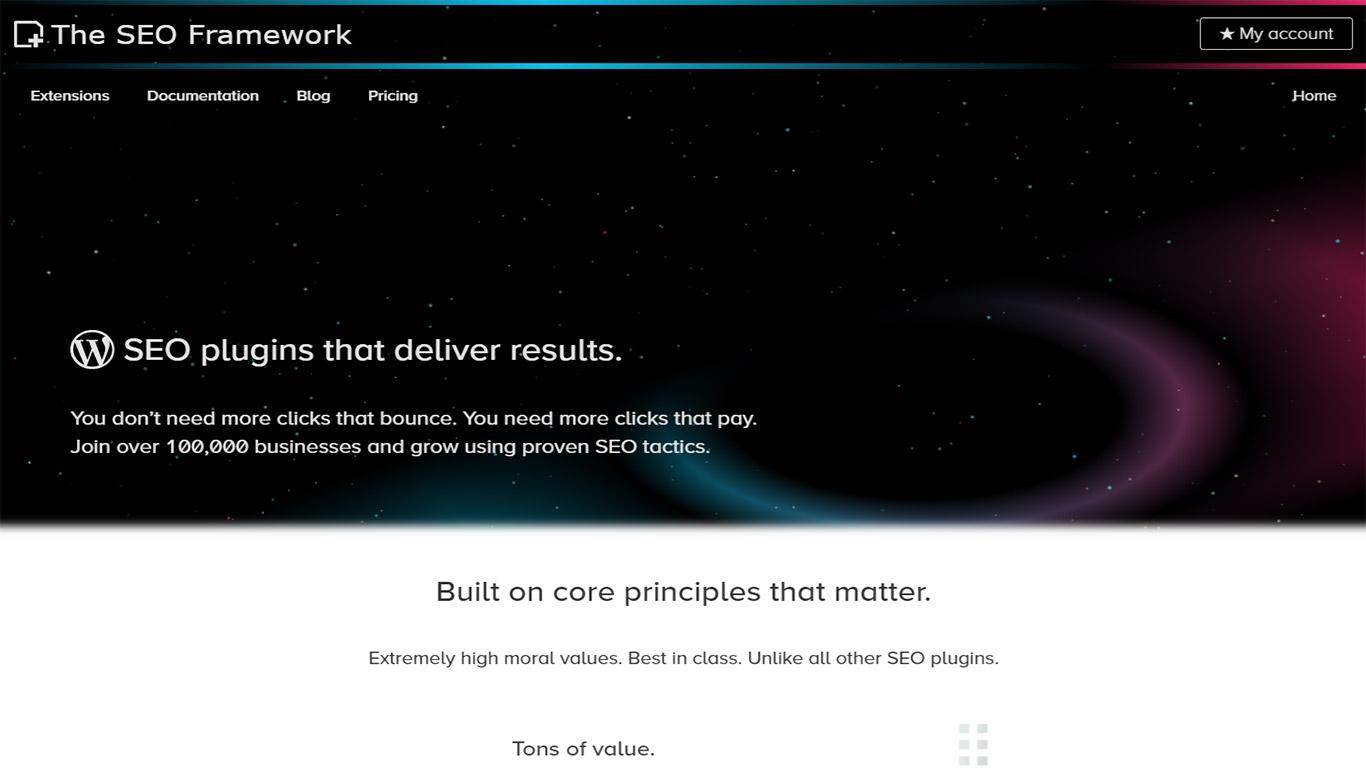 The SEO Framework is a feature-filled SEO plugin that is very similar to all of the other plugins on this list. The main difference is that this plugin is more lightweight than the others also making it a worthy option.
With ease of use in mind, this plugin is surely one that would need your attention. Being able to pre-fill meta tags helps you shave off hours from doing it yourself.
Top Features
Some of The SEO Framework's top features include:
Comes pre-configured out of the box
Easily Edit Open Graph metadata
Enables breadcrumbs for Google Search
Automatically generating titles and descriptions according to Google's guidelines
Open support forums available
And so much more.
Pricing:
The SEO Framework has a free version available with limited features just like all the other plugins on this list. For more advanced features check out their premium versions:
Pro – $84/year
Business – $204/year
Agency – $324/year
6. SEOPress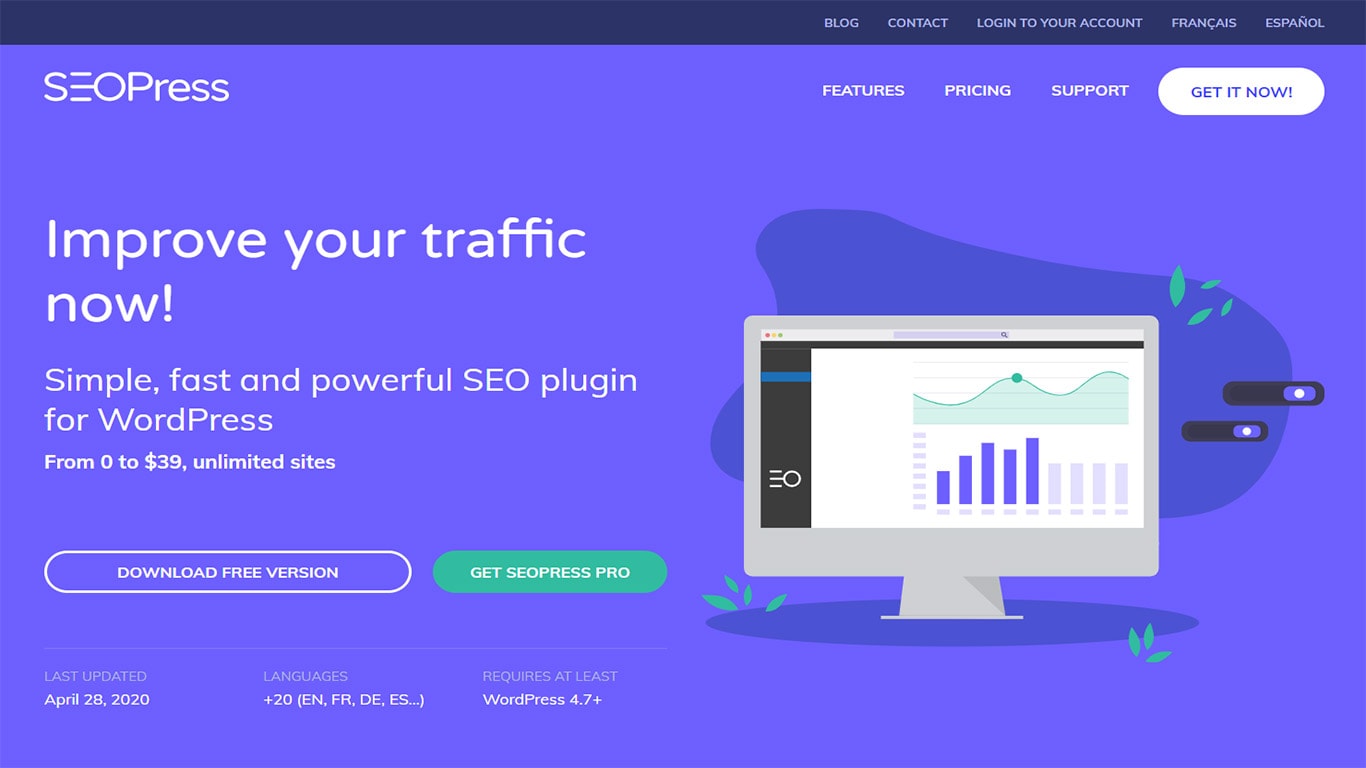 SEOPress is another simple yet powerful SEO plugin that you can install instead of Yoast. It comes with pretty much the same features as Yoast SEO including the ability to add meta titles, descriptions, open graph support, image and content XML sitemaps, and more.
The setup is incredibly easy for beginners and advanced controls for more experienced users. It is easily a great competitor to the other plugins on this list.
Top Features
The top features of SEOPress include:
Installation wizard to quickly set up your site
Titles (with dynamic variables: custom fields, terms taxonomy…)
Meta descriptions (with dynamic variables too)
Open Graph Data
Google Knowledge Graph
Google Analytics with downloads tracking, custom dimensions, IP anonymization, remarketing, demographics and interest reporting, cross-domain tracking…(GDPR compatibility)
Twitter Card
Canonical URL
Meta robots (noindex, nofollow, noodp, noimageindex, noarchive, nosnippet)
Build your custom XML Sitemap to improve search indexing.
Image XML Sitemaps to improve search indexing for Google Images.
Build your custom HTML Sitemap to enhance navigation for visitors and improve search indexing.
And so much more for the Pro version:
Import metadata (titles, open graph, robots…) from CSV file
Export metadata (titles, open graph, robots…) to a CSV file
video XML Sitemap
Google Suggestions in Content Analysis
Google Structured Data Types (schema.org): article, local business, service, FAQ, course, recipe, software application, video, event, product, job, simple review, site navigation element, and custom
Automatic Schemas
Pricing
The main advantage of this plugin is its pricing. There is a free version similar to the others and it's available to download from the WordPress.org site.
The premium versions, however, with similar features to Yoast Premium, are at a cheaper price $39 for unlimited sites including a year of updates and support.
7. Platinum SEO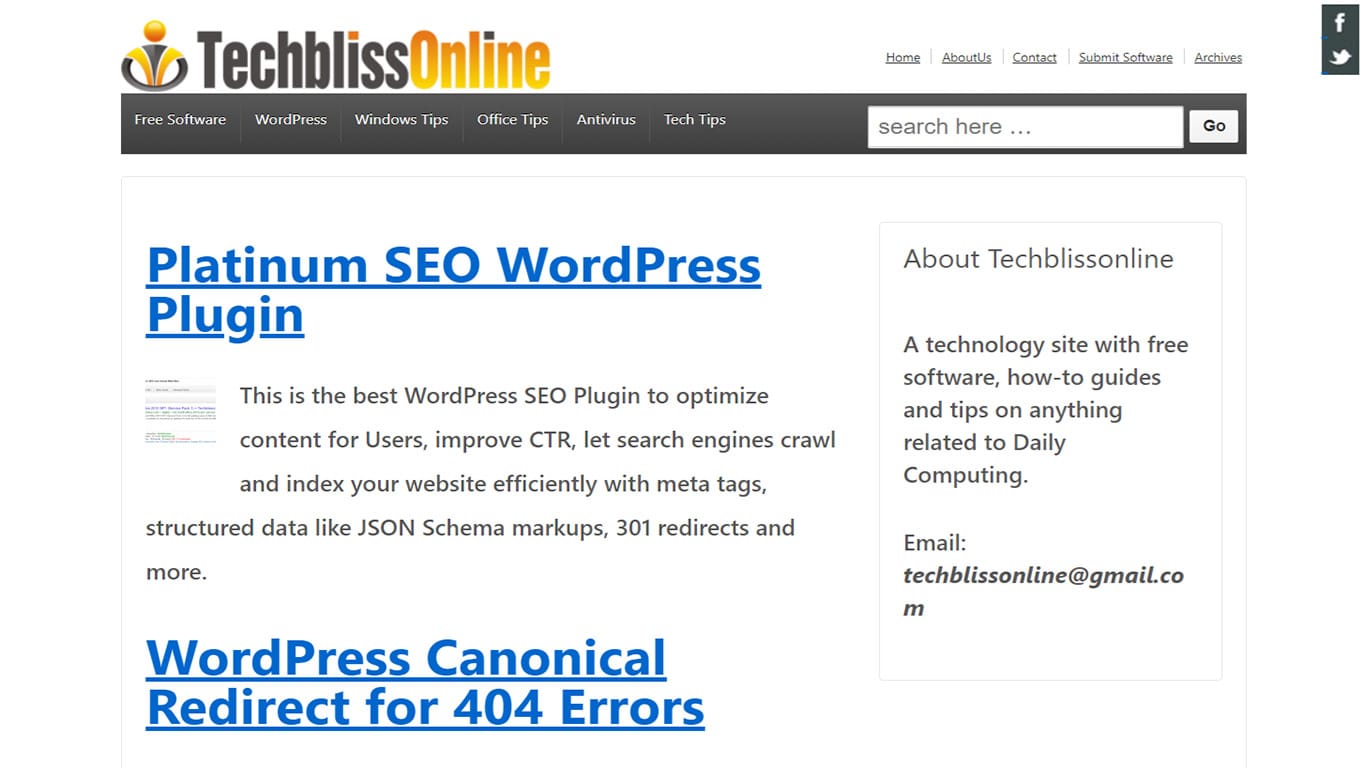 Platinum SEO is a seemingly lightweight plugin to help with SEO for your WordPress site. It offers all the basic functions that you'd need to be able to increase your SEO score with search engines.
You can easily add canonical URLs, add Open Graph metadata for social media, and add posts and page titles for search engines.
The only difference between this plugin and most others on this list is that Platinum SEO does not provide any content suggestions aside from helping add the necessary tags and metadata.
Top Features
Some of Platinum SEO's top features include:
Create and set any kind of JSON-LD schema markup tag for any post, page or taxonomy.
Canonical URLs
Create social meta tags for Facebook, Twitter, Pinterest, and linkedin.
Optimized Post and Page Titles for search engines
Generates all SEO relevant META tags automatically
Option to specify meta description and meta keywords tag for categories and tag pages.
Option to turn off Page title or Post title rewrites for any particular post or page
Helps you avoid duplicate content
Lets you override any title and set any META description and META keywords, for any post
Support for custom taxonomies
Pricing
The Platinum SEO plugin is free to use and download from their website or WordPress.org.
8. Slim SEO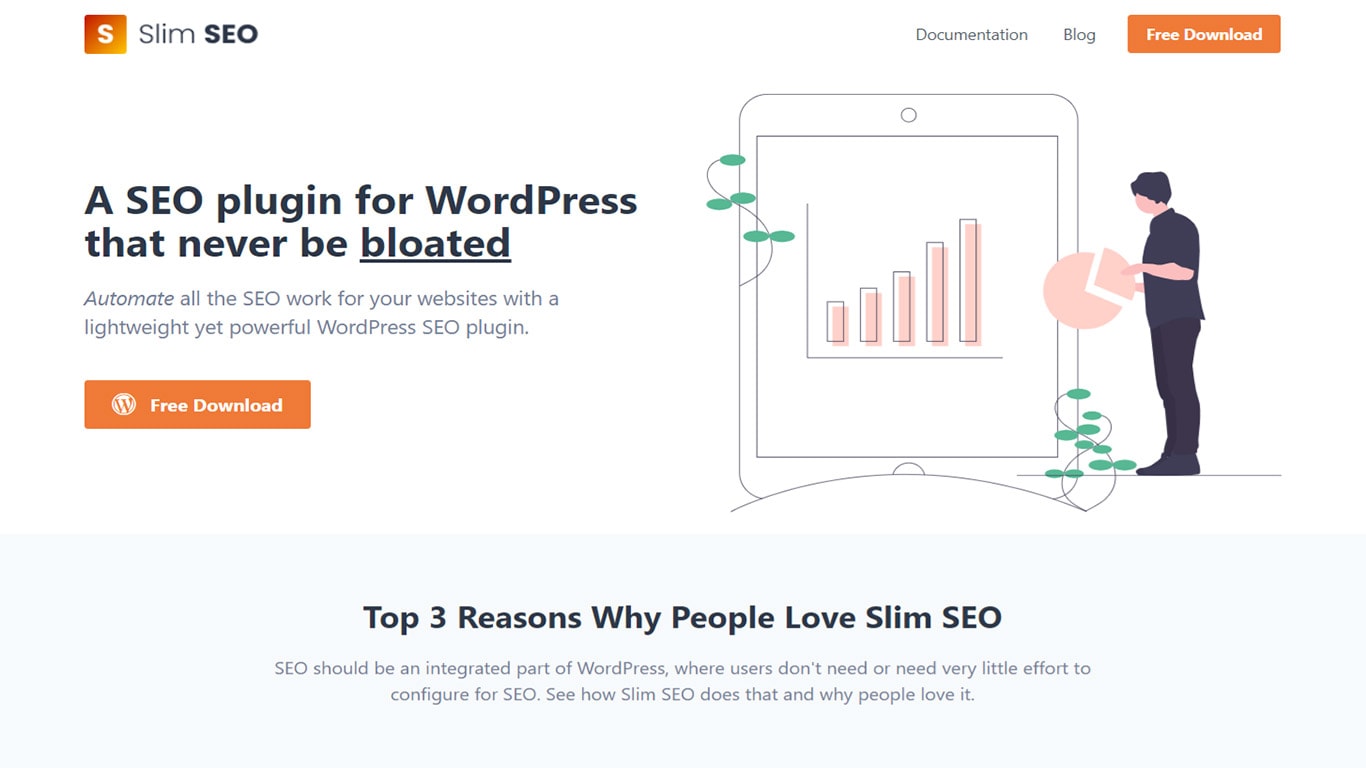 Slim SEO is an incredibly powerful and handy SEO plugin that basically does all the same functions as the other plugins on this list, but with one main difference. It wants to save you all the time by configuring all the things that you need to and does most of them automatically.
Slim SEO is suitable for all types of users especially those who prefer simplicity with the way they work their page SEO.
Top Features
Slim SEO's top features revolve around being able to manage itself and automatically do things for you, including:
Slim SEO automatically adds some structured data to the website via JSON-LD
Output a breadcrumb trail on your website easily by automatically fetching the information from the current post and output a hierarchy
Automatically generates an XML sitemap
Auto-generate the following meta tags:

Meta title tag: display your title in an SEO-friendly way.
Meta description tag: auto-generated from posts/pages excerpt or content.
Meta robots tag: decide which pages are indexed and which ones not.
Facebook Open Graph Tags: share your posts on Facebook beautifully.
Twitter Card Tags: share your posts on Twitter beautifully.
Pricing
Slim SEO is free to use and download from its website or the WordPress.org page.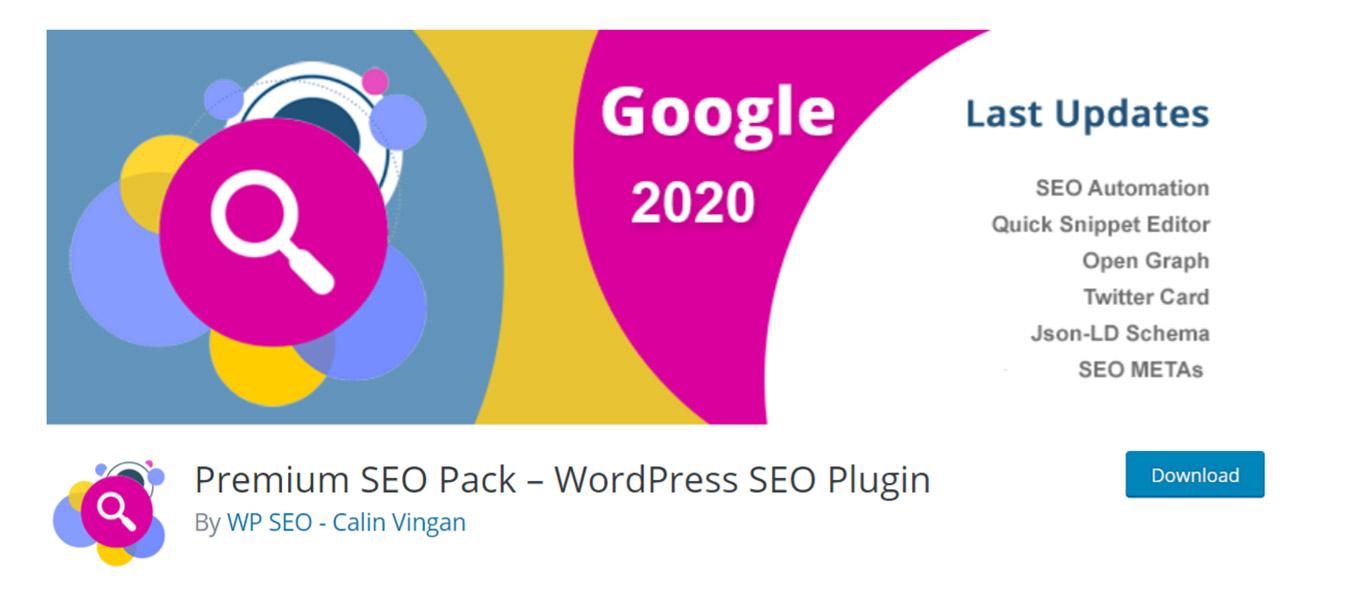 Premium SEO Pack is another lightweight SEO plugin that has all the same basic features as all the others on this list. You get to increase your SEO score by adding meta tags, descriptions, keywords, and Open Graph meta to your posts.
One of the main features of this plugin is that it's free and works well with WooCommerce and other WordPress eCommerce plugins. Also, you can customize each page directly from post preview top bar or from the admin top bar
Top Features
Here are a few of Premium SEO Pack's top features:
SEO Patterns for each Post Type and Custom Post Types
Title, Description, Keywords, Canonical Metas
Open Graph Image, Title, Description, Type
Twitter Card Image, Title, Description
Noindex and Nofollow options for each post type
Works well with Woocommerce and other e-commerce plugins
Works with WordPress Multisite
Pricing
Premium SEO Pack is free to use and to download from the WordPress.org site.
10. BoldGrid Easy SEO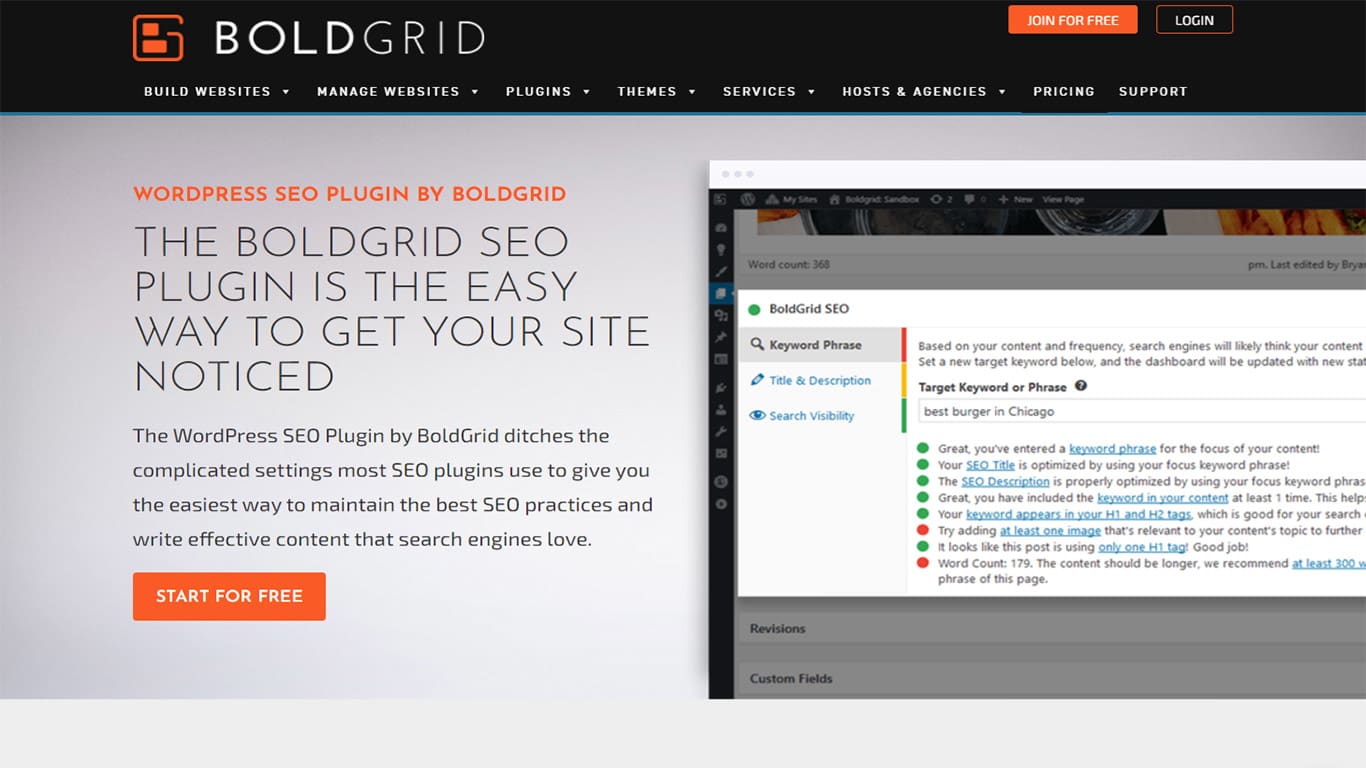 BoldGrid Easy SEO is a simple yet effective SEO plugin for your WordPress site. It will easily help you rank higher in search engine searches by analyzing your page in real-time and providing easy to follow recommendations on how to best improve your SEO.
You don't have to be an expert too when using BoldGrid as it is very easy to use and has a very intuitive user interface.
Top Features
BoldGrid Easy SEO's top features include:
Real-time analysis of optimal keyword density
Title and description editor with recommendations
Automatic analysis of header tags to make sure you are using them properly
Content analysis including content links
Search Engine Indexing options
Easily add and edit canonical URLs
Easily set follow/no-follow links
Automatic image ALT Tags checking
Pricing
BoldGrid Easy SEO is free to use and download from the WordPress.org site.
11. Smartcrawl SEO by WPMU Dev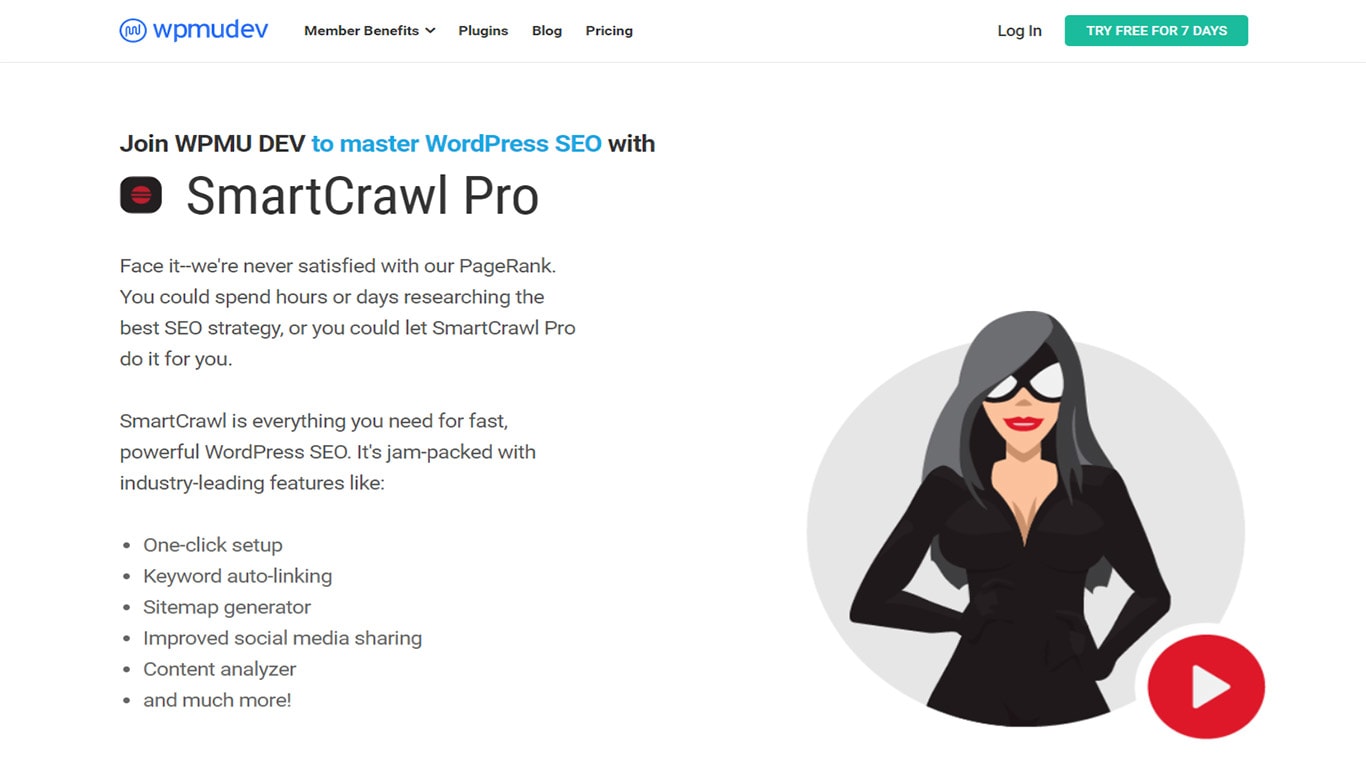 SmartCrawl SEO is yet another amazing plugin from the WPMU DEV family of plugins.
SmartCrawl boasts amazing features with an easy to use interface that can automatically provide you the best recommendations on how to increase your site SEO rankings. It also has a one-click setup that can prove to be extremely useful and helpful to those who aren't experts in the SEO field.
Top Features:
SmartCrawl SEO's top features include:
One-Click Setup Wizard – Activate settings to boost your reach – no more guesswork!
SEO Checkup & Reports – Run a Checkup and get recommendations for improving SEO.
Titles & Meta Descriptions – Customizes how your meta tag titles and meta descriptions display on search pages.
Leverage Social Media – SmartCrawl includes Open Graph, Twitter card, and Pinterest verification and credits you when someone shares your posts.
Sitemap Generator – Choose which post types, archives, and taxonomies you wish to include, exclude or add.
Smart Page Analyzer – SmartCrawl has an SEO checker that scans pages and posts for readability and keyword density and makes suggestions for optimizing your content.
Integrate With Moz SEO Tools – Already use Moz? Connect your Moz reports and comparison analysis including rank and links.
Quick Setup Import/Export – Quickly add your custom SmartCrawl SEO settings to all your sites with included import.
Pricing
Just like all the other WPMU Dev plugins, SmartCrawl SEO is free to use and download from WordPress but only has basic functions.
For added features and benefits you can purchase a WPMU DEV membership from their website for $49 per month with a free 7-day trial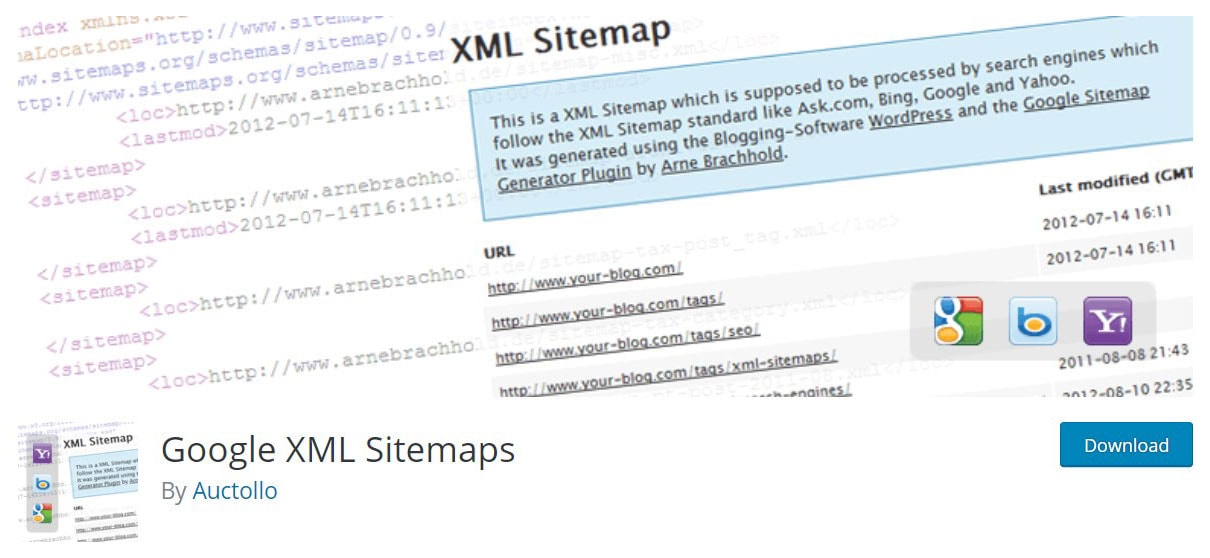 Arne Brachhold develops Google XML Sitemaps with 2+ million active installs. This plugin is a versatile solution that gives you full control over which of your web pages are crawled.
Google XML Sitemaps lists all settings and options on your WordPress page where you can adjust your settings to improve SEO significantly. This plugin creates special XML sitemaps to help search engines better index your site.
With this plugin, crawlers can easily see the complete structure of your site and retrieve it more efficiently. Google XML supports all types of WordPress pages and URLs. It also notifies search engines of your post about the new content.
Top Features:
Google XML Sitemaps' top features are:
It attracts search engines to crawl and index your site
Selecting content categories to be included in the sitemap
Setting priority for indexation that tells the crawlers which part of your page is essential for them to index the page
Setting each post's priority based on the average comment count or the number of comments for automatic calculation
Excluding specific types of post categories or posts want for indexing or not
Helping Google crawl your website in a more effective way
Submitting the sitemap automatically to search engines
Pricing:
Google  XML Sitemaps is free to use and to download from the WordPress.org site. You can use Google XML on your personal or commercial site for free.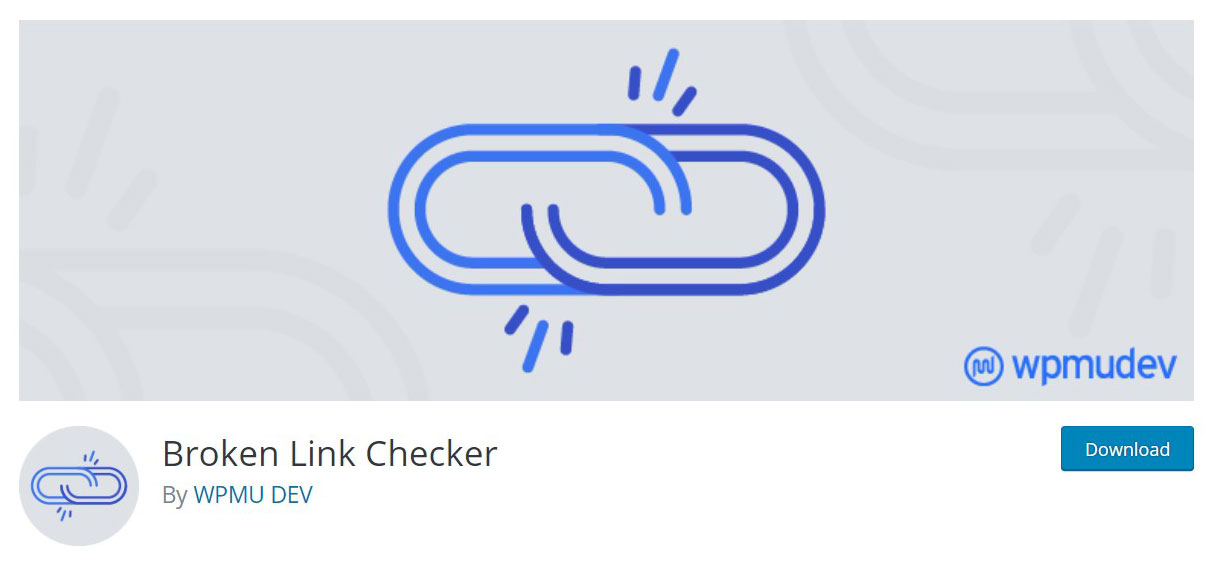 Broken Link Checker is a free plugin with 700,000+ active installs. This plugin monitors and tests all internal links & external links on your site, and checks your content for broken links and missing images, and helps you fix these broken links to improve SEO for your site.
Broken Link Checker keeps an eye on your website while you focus on creating your content.
Broken Link Checker is a very responsive plugin that reveals all broken links within a few minutes. It shows you a list of links in question to quickly decide whether to remove those links or replace them with the appropriate sources.
All actions needed to fix the links are on the plugin's primary page, and you don't have to visit the exact link to fix it.
Broken Link Checker is also capable of searching and filtering things on your site that might confuse your visitors and the search engines such as links, monitoring comments, custom fields, missing images, and redirects, etc.
Top Features:
Here are the key features of Broken Link Checker:
Monitors external links and internal links on your site.
Detects broken links, missing images, and redirects.
Dashboard and email notification.
Prevents broken links on your site.
Links searching and filtering.
Links can be updated directly from the plugin's page.
Pricing:
Broken Link Checker is free to use and to download from the WordPress.org site.
14. Google Analytics by MonsterInsights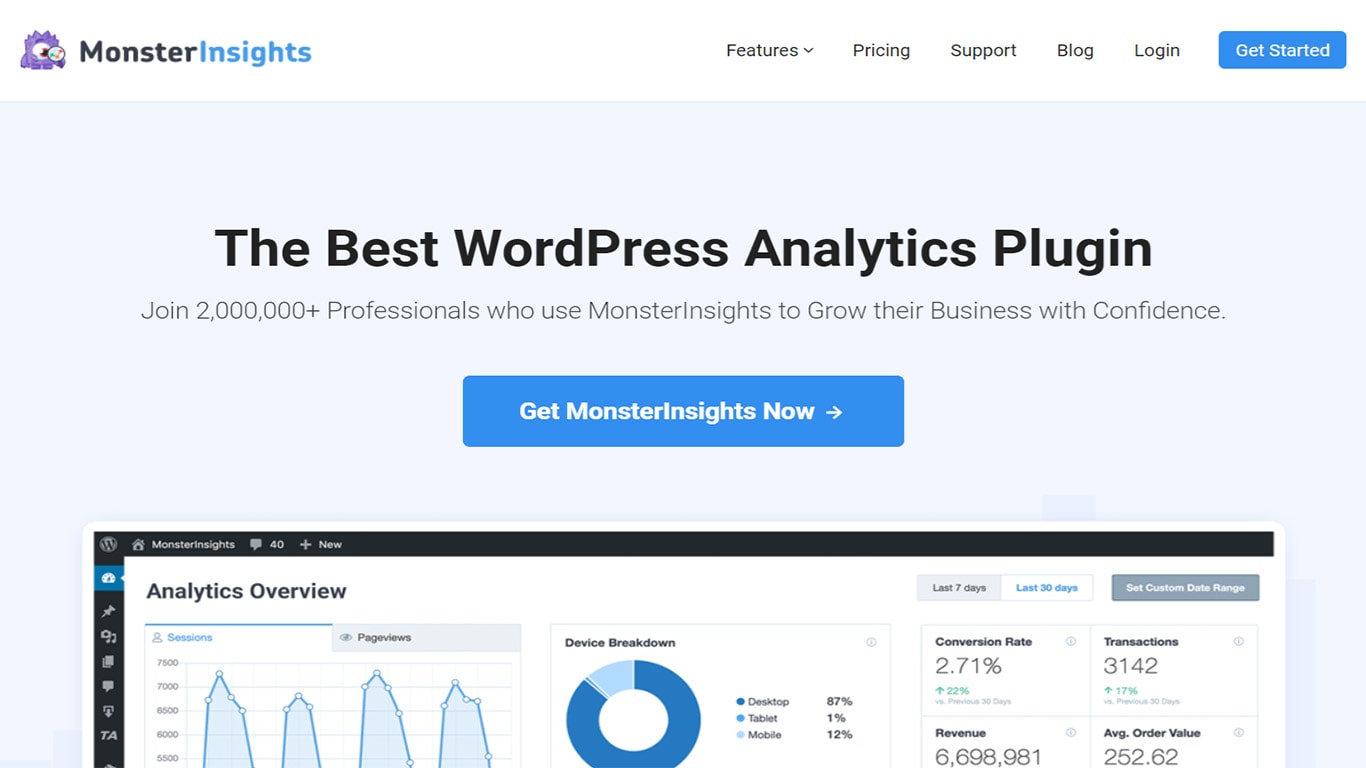 Monsterinsights is a popular and one of the best Google Analytics plugins for WordPress. It is a convenient way to turn data collected by Google Analytics into meaningful reports for real-world action. It comes with a built-in Google Analytics Dashboard that shows you actionable analytics reports right inside your WordPress site. It's easy to install, offering you real-time data.
MonsterInsights shows you the stats that matter about your visitors and help you grow your business with confidence. This plugin properly connects your WordPress site with Google Analytics and gives you relevant information for you to make data-driven decisions for your business. It allows you to enable all advanced Google analytics tracking features easily.
Top Features:
Here are some features that come with:
Quick and easy Google Analytics setup.
Keeps your tracking code while switching WordPress themes.
See real-time stats in your WordPress dashboard.
View popular posts, pages, and referral sources.
Audience Report – detailed insights like which country your visitors are coming from, what are they most interested in, which device are they using, their age, gender, and a whole lot more.
Behaviour Report – shows how your clients find your site, what part of your site they click in, opens new partnership opportunities, and promotional areas to focus.
Content Report – stats on strictly which content gets the most visits.
Ecommerce Report – quick view of total revenue, conversion rate, average order value, top referral sources, and more
Forms Report – generates conversion statistics for various contact forms on your website.
Search Console Report – shows you your website ranking in Google.
Pricing:
The free version of Monsterinsights is available for download and use in the WordPress directory. The premium version of the plugin gives you a lot more features to include events tracking, eCommerce tracking, and more.
Monsterinsights offers the following price plan, all with one (1) year support and updates:
$199.00 for 1 website
$399.00 for 5 websites
$799.00 for 25 websites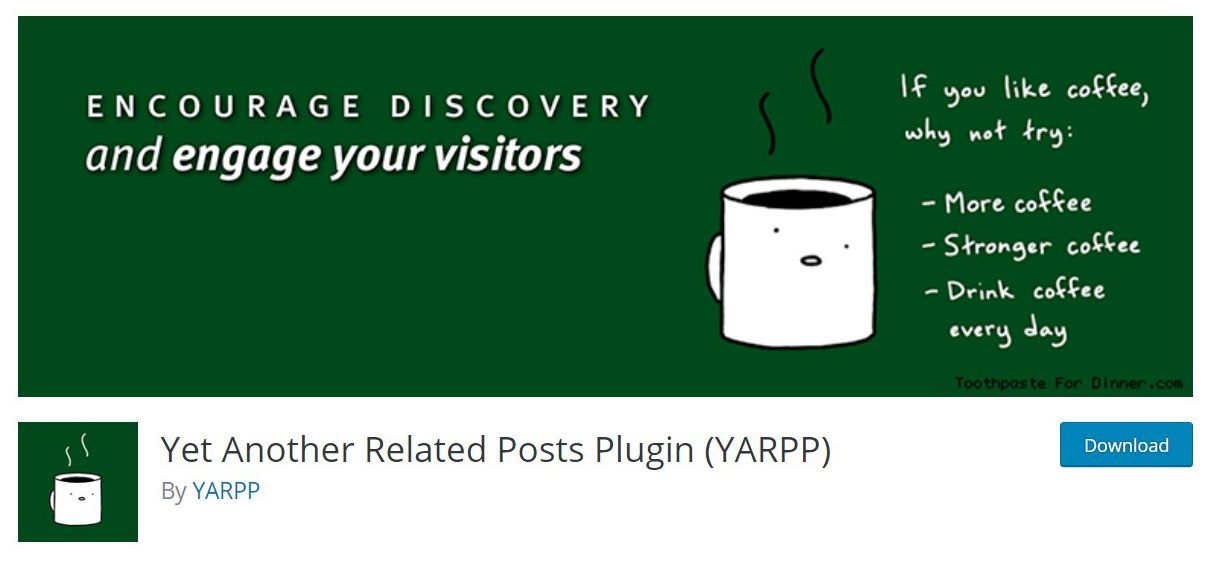 yet another related Posts Plugin (YARPP) is a highly customisable and feature-rich plugin that helps you to display related pages, posts and custom post types related to the current entry. This plugin introduces your readers to other relevant content they might want to see on your site.
YARPP plugin fetches the most relevant related posts on your WordPress site. The algorithm used by this plugin considers post title, tags, category and content while gathering the most suitable items to display for a particular post. You get to decide which classes and tags to include, exclude, and prioritise for each parameter.
This plugin in helps to reduce bounce rate on your WordPress site by displaying most related content. In that way, it increases the average time the user is browsing on your blog by providing them with what they are looking for. It increases page-views and improves your page SEO.
Top Features:
YARPP comes with the following features:
Thumbnail or list view of related content.
Related posts, pages, and custom post types.
Templating with advanced control of how your results are displayed.
Advanced and versatile algorithm to find related content from across your site.
Related posts in RSS feeds.
REST API support.
Shortcode support.
HTTPS support.
WordPress Multisite support.
Professionally maintained and supported with regular updates.
Pricing:
Yet Another Related Posts Plugin (YARPP) is free to use and to download from the WordPress.org site.
16. WordFence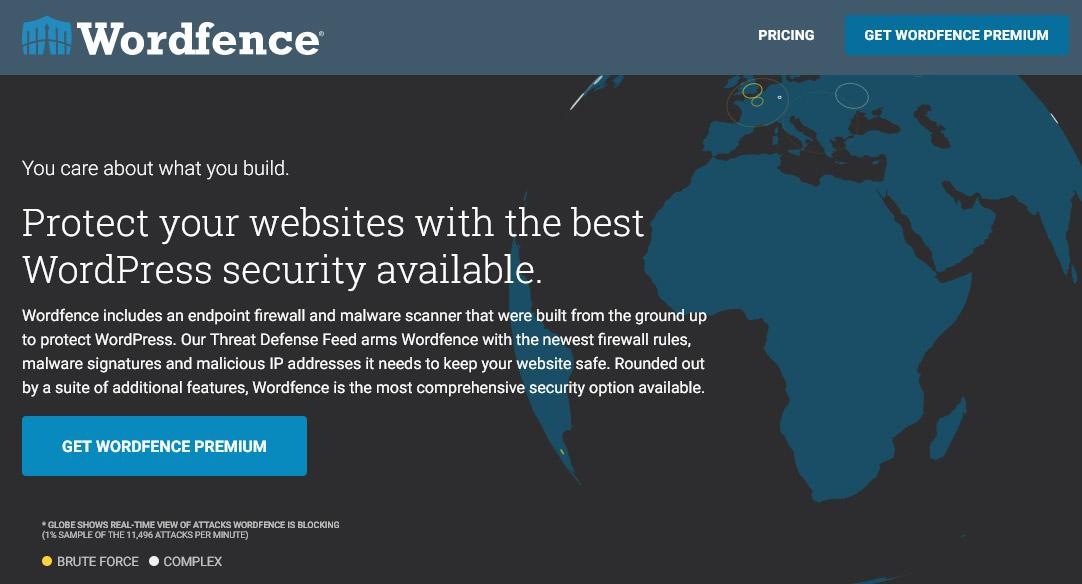 WordFence plugin is a freemium plugin for WordPress site. It is a well-known and trusted security plugin with 3+ million active installs.
WordFence is a reliable security plugin with a dedicated team working solely on security and contributing to the WordPress core's security updates.
The Threat Defence Feed shares the latest firewall rules, malware signatures, and malicious IP addresses with WordFence to make it more robust and reliable to fight against the threat.
While the free version helps block malicious traffic or those coming from malicious IP's etc., the premium version of WordFence stops Brute Force attacks permanently and ensures your passwords are strong.
WordFence comes with a user-friendly dashboard and a complete WordPress firewall and malware signatures. It prevents access from malicious IP addresses.
WordFence allows you to see your overall website traffic trends and reports any attempted hacks on your site from humans, Google crawlers, and bots. It also blocks attacks coming from specific countries.
Top Features:
Here are the top features you get from Wordfence Security:
Real-time malware signature update
Check your website regularly for threats
Two-factor authentication
User-friendly dashboard
WordPress Security Scanning
Hacked File Removal
Live Traffic Monitoring
WordPress Security Firewall
Login Page Protection
Country blocking
Detect & Repair Corrupted Folders
Pricing:
The free version of Wordfence Security comes with plenty of features that will keep your website safe. The premium version added more features. The premium WordFence plugin costs $99 per site per year, and you will get discounts if you buy more licenses.
17. W3 Total Cache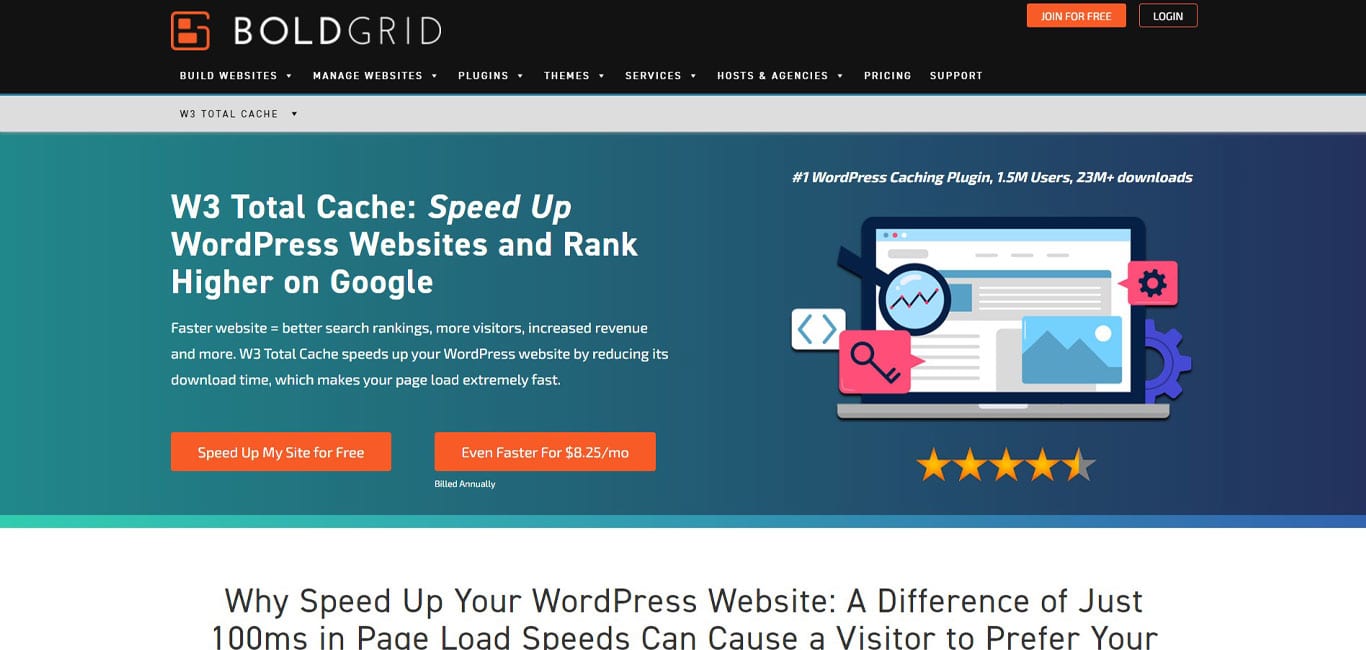 W3 Total Cache (W3TC) is a feature-rich WordPress caching plugin with 1+ million active installs. It provides you with all the tools needed to optimize your WordPress website. This plugin also reduces load times by leveraging features like content delivery network integration and the other best practices to improve the SEO and user experience of your website.
Millions of publishers, web developers, and web hosts worldwide trusted W3TC Web Performance Optimization framework for more than a decade. W3TC improves your site's conversion rates and "site performance" to increase your page rankings in search engine results, especially for mobile-friendly SSL websites.
W3TC uses browser caching for instant repeat page views, and it optimise progressive render to be interacted with more quickly by visitors. This plugin will surely speed up your site and improve the user experience for your readers.
Top Features:
The top features of W3TC are the following:
Compatibility with virtual private servers, dedicated clusters, and shared hosting.
Transparency in managing the content delivery network (CDN) with Media Library, theme files and WordPress.
Accelerated Mobile Pages (AMP) support.
Secure Socket Layer (SSL) support.
Cached pages and posts in memory or on disk or (FSD) CDN.
Cached CSS and JavaScript in memory, disk, or CDN.
Cached feeds in memory or on disk or CDN.
Cached search results pages in memory or disk.
Cached object and its database in memory or on disk.
Cached fragments in memory or on disk.
Minify CSS,JavaScript and HTML using granular control.
Minify posts, pages and RSS feeds.
Minify inline, embedded or 3rd party JavaScript with automated updates.
Minify inline, embedded or 3rd party CSS, and automated updates.
Cached browser using cache-control.
Leverage our multiple CDN integrations to optimize images.
Cached statistics for performance insights of any enabled feature.
Automatic CDN support.
Lazy Loading of Images/Media.
Pricing:
There W3 Total Cache is available for download and use from WordPress.org, and there's the Pro version.
The Pro version of W3 Total Cache is available only on in-app purchases within the free plugin interface and does not offer multi-site license discount. If you need it for more sites, you will need to pay its total at $99 per site price.
18. WP Rocket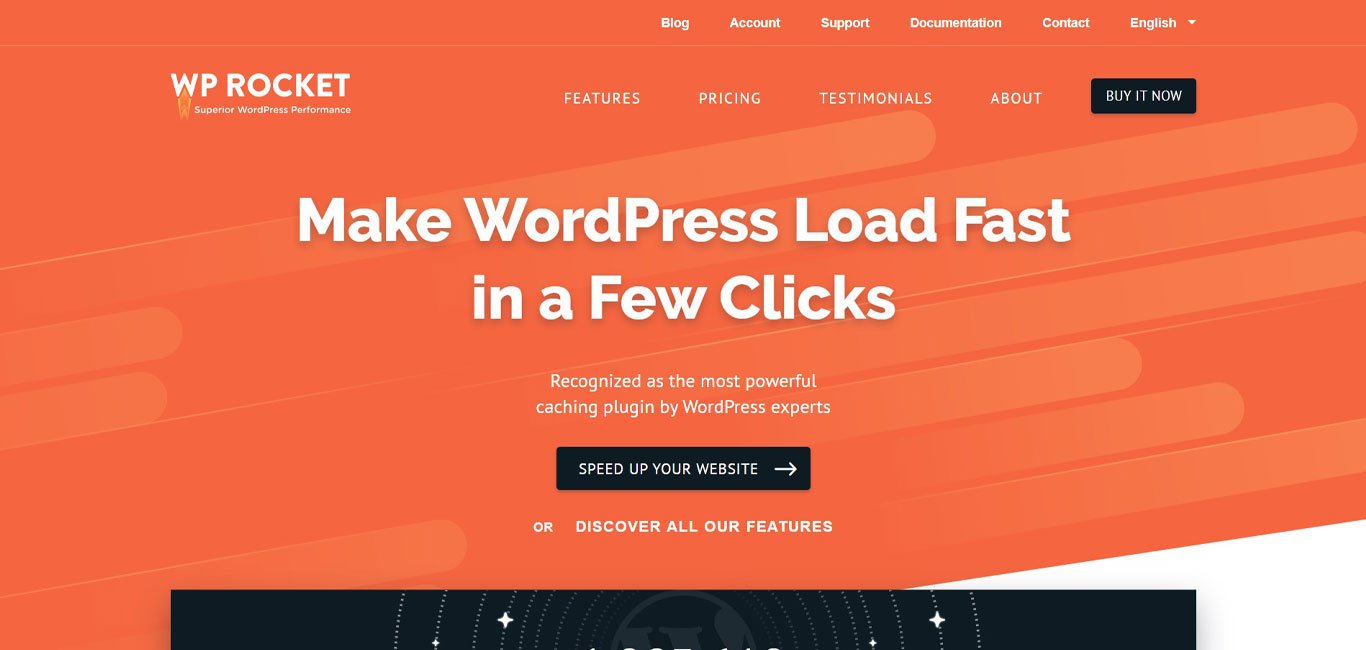 WP Rocket is a revolutionary caching plugin launched in 2013 specifically for WordPress. WP Rocket was built to solve the problem of slow loading websites and confusing caching plugins.
The easy to use interface, minimal setup, and generous support quickly established its presence as a market-leader.
WP Rocket now supports and empowers over 900,000 websites and continue to evolve, becoming one of the leading caching plugins for WordPress.
Top Feature:
Here is a quick look of WP Rocket's features:
Page Caching
Cache Preloading
Sitemap Preloading
GZip Compression
Browser Caching
Database Optimization
Google Fonts Optimization
Remove Query Strings From Static Resources
Lazy Loading
Minification and Concatenation
Defer JS Loading
CloudFlare Compatibility
CDN
DNS Prefetching
Mobile Detection
Multisite Compatibility
eCommerce Friendly (WooCommerce)
Multilingual Compatibility
Import/Export
Developer Friendly
Pricing:
WP Rocket is a premium-only plugin, here's how the pricing breaks down:
$49 for one site.
$99 for 3 websites.
$249 for unlimited sites.
All licenses include support and updates for 1 year from the date of purchase, and then you can renew your license with a 30% discount after the first year.
19. Redirection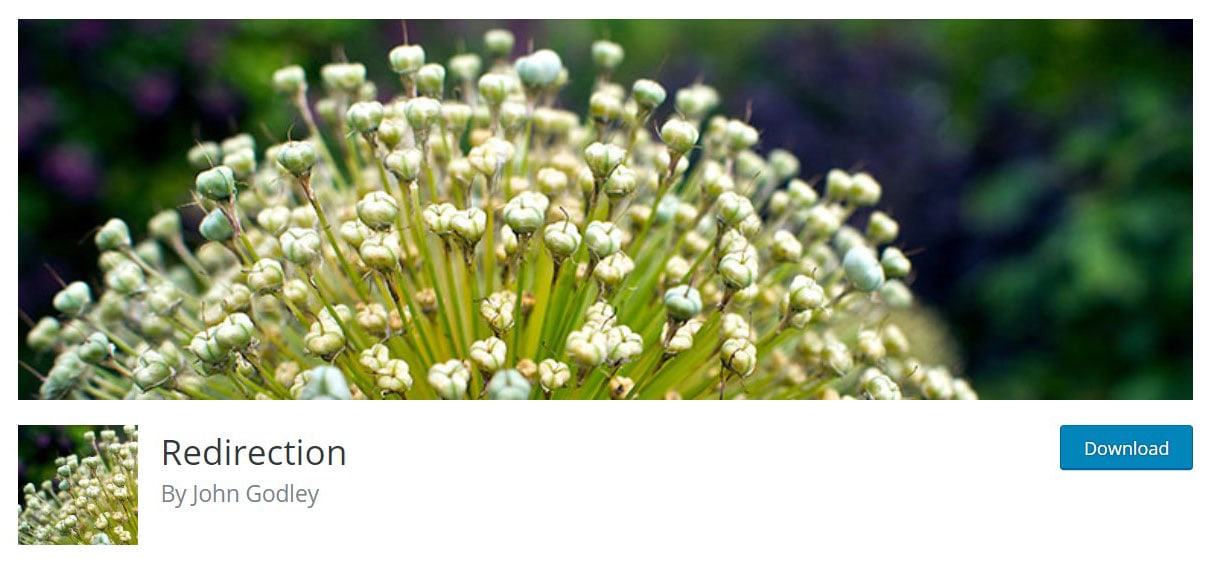 Redirection is one of the oldest and most trusted WordPress redirection plugins. This plugin is already more than ten (10) years in the market and has 1+ million active installs.
With this plugin, you can easily keep track of 404 errors, manage 301 redirections, and reduce link errors in your site and help you improve your site SEO ranking.
Redirection is a free WordPress plugin and available in multiple languages. It is one of the most popular redirect managers for WordPress. This plugin is designed to be used on sites of all sizes, from those with just a couple of redirects to those with thousands.
It is easy to install and use. You don't need to have knowledge of Apache or Nginx to fix redirection issues on your site.
You can view all redirection issues on your site with the logging feature of this plugin. You can also keep track of visitors' information, their browser, and referrer. Resolving these issues and understanding your clients can significantly increase your conversion rate and improve your SEO ranking.
Top Feature:
The key features of Redirection are:
Easy and simple to manage.
Conditionally Redirect.
Full Logging.
Login Status Analysis.
Browser, Referrer, and Cookies Redirects.
Manage 301 redirections.
Track 404 Errors.
Apache and Nginx Support.
Import and Export Systems.
Pricing:
Redirection is free to use and to download from the WordPress.org site.
20. Really Simple SSL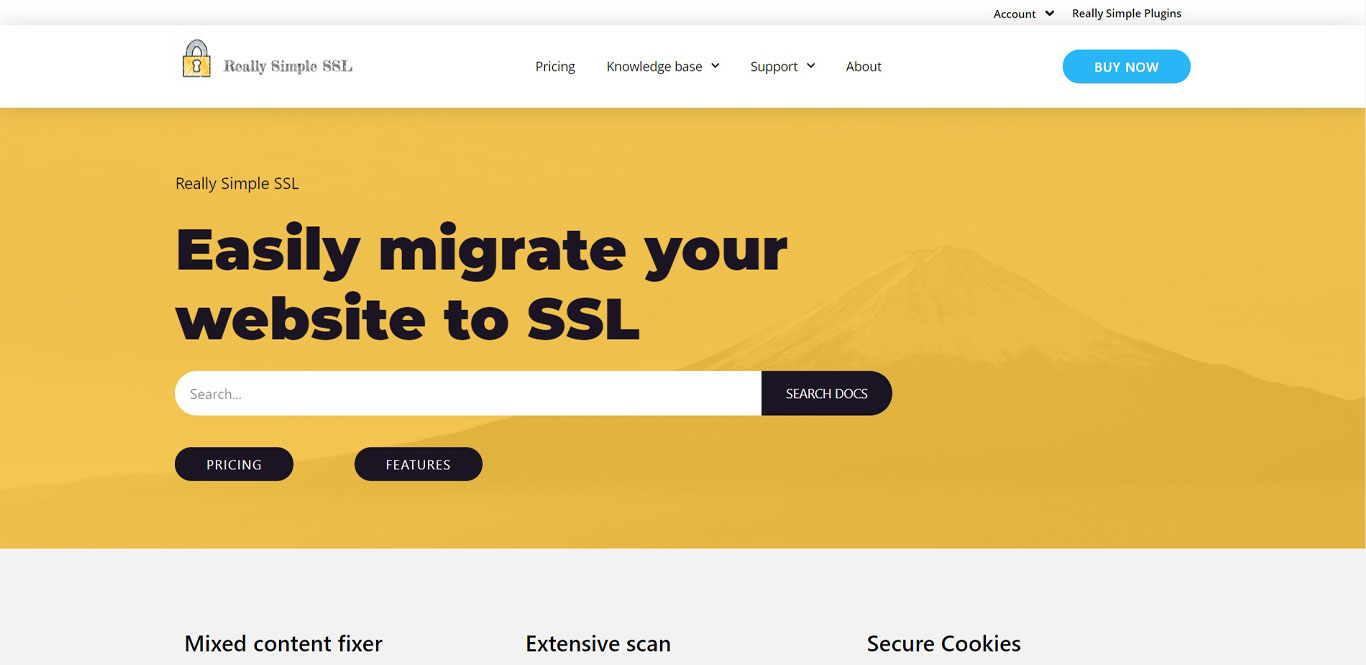 Really Simple SSL plugin automatically detects your site's settings and configures your website to run with HTTPS protocol. It has 4+ million active installs.
This plugin helps to keep your site lightweight, and options are kept to a minimum. It is designed to handle SSL related issues in WordPress sites. It also handles incoming requests. It redirects siteurl and homeurl and changed to https. SSL is an essential feature for website security and for serving a magnificent score in SEO.
Google officially warns website owners that non-HTTPS sites would incur consumer messaging prompting that the site as non-secure.
Legit e-commerce platforms, shopping carts and retailer buying processors must have SSL/ HTTPS websites tp avoid being exposed to the risk of dropped search rankings and overall, less traffic.
Top Features:
PRO FEATURES
Mixed content scan for sites with no secure lock yet.
Enable HTTP Strict Transport Security.
Configure your WordPress website to be included in the preload list of HSTS.
Advanced security headers for additional security
Mixed Content Fixer for the back-end
More detailed feedback on the configuration page
Receive an email when your SSL certificate is about to expire
Premium support
Pricing:
Really Simple SSL has a free version with limited features available to use and download from the WordPress.org site. The following premium versions offer more advanced features:
Personal Plan is available at $29 for a single license.
Professional Plan is available at $59 for five (5) domains.
Unlimited Plan is available at $159.
21. AMP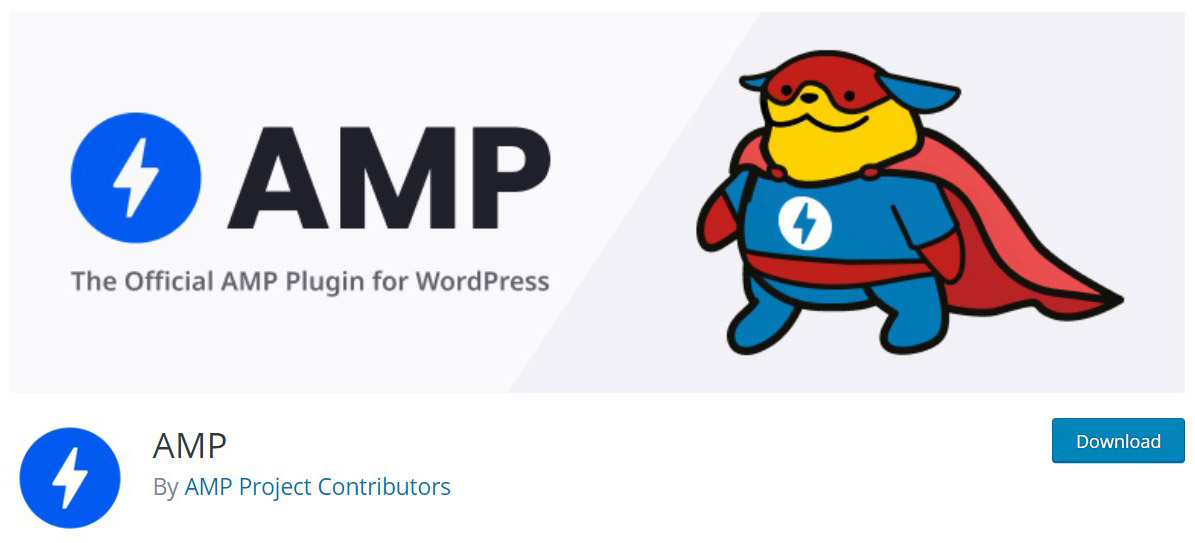 AMP is the official plugin from the AMP project with 500,000+ active installs. This plugin enables seamless AMP content publishing with WordPress. It is a powerful tool that helps you build a fast, beautiful, secure, engaging, and accessible user-first WordPress site.
AMP plugin makes your site more attractive to users and will increase user engagement with your site. It is no longer used for mobile sites only. AMP has a fully responsive web component framework that can provide AMP experiences for your users on both mobile and desktop devices.
Developers and tech-savvy users can take advantage of advanced developer tools provided by the AMP plugin to fix validation issues your site may have and reach full AMP compatibility.
AMP plugin allows you to create WordPress sites that are fully AMP-compatible. This plugin helps you remove invalid AMP markup in cases where it is possible, and suppresses AMP-incompatible plugins on AMP pages.
Top Features:
The key features of the AMP plugin are the following:
Generates AMP-valid markup automatically while users stick to the standard workflows they are used to in WordPress.
Provide useful validation tools to help users deal with AMP incompatibilities when they happen, including mechanisms for identifying, contextualising, and resolving issues caused by validation errors.
Provide development support in creating AMP-compatible ecosystem components for WordPress site developers.
Builds websites and solutions with built-in AMP-compatibility feature.
Supports serving of AMP pages for mobile redirection, AMP-to-AMP linking, and generation of default AMP optimization.
Provide a turnkey solution for segments of WordPress creators to be able to go from zero to publishing AMP pages in no time, regardless of technical expertise or availability of resources.
Pricing:
AMP plugin is available to use and download for free from the WordPress.org site.
22. Autoptimize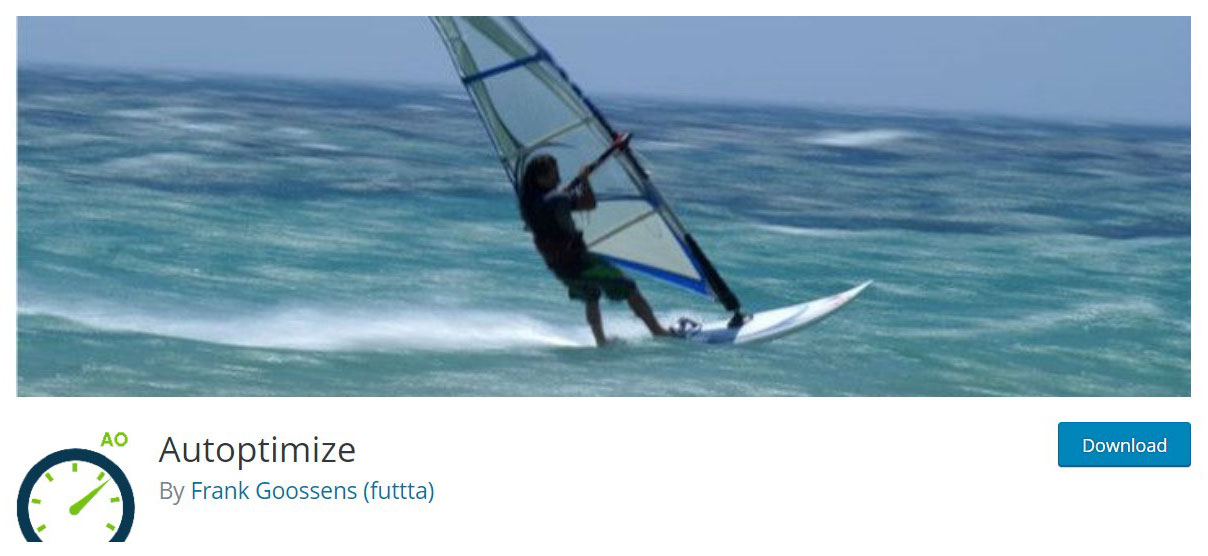 Autoptimize is a plugin for optimizing, minifying, and aggregate scripts on your WordPress website. It has 1+ million active installs.
Autoptimize makes optimising your site accessible by aggregating, minifying and caching scripts and styles. It injects CSS in the page head by default or inline critical CSS. It also defer the aggregated full CSS, moves and defers scripts to the footer, minifies HTML, and more.
This plugin optimises your site's images and Google Fonts. It lazy-load images, async non-aggregated JavaScript, remove emoji cruft, and more. Websites on HTTP/2 can also be optimized by this plugin in terms of performance.
Autoptimize focused on optimising scripts. It's easy to use and simple enough for both beginners and advanced users.
Top Features:
The top features of Autoptimize are:
Aggregate files by combining your CSS and Javascript files, so the user's browser has fewer files to download.
Minify files by removing unnecessary content and white space from files.
Cach HTML files, scripts and CSS files, to reduce server load and increase your loading speed.
Defers some scripts to the footer of the page, allowing the user to begin using the rendered page while some scripts continue loading in the background.
Content Delivery Network (CDN) integration.
Works with other advanced caching plugins like WP Super Cache, Comet Cache and HyperCache.
Pricing:
Autoptimize has a unique pricing structure where the plugin itself is free. You can pay the developers to set it up and configure it individually for your website for €159 per-site.
23. ShortPixel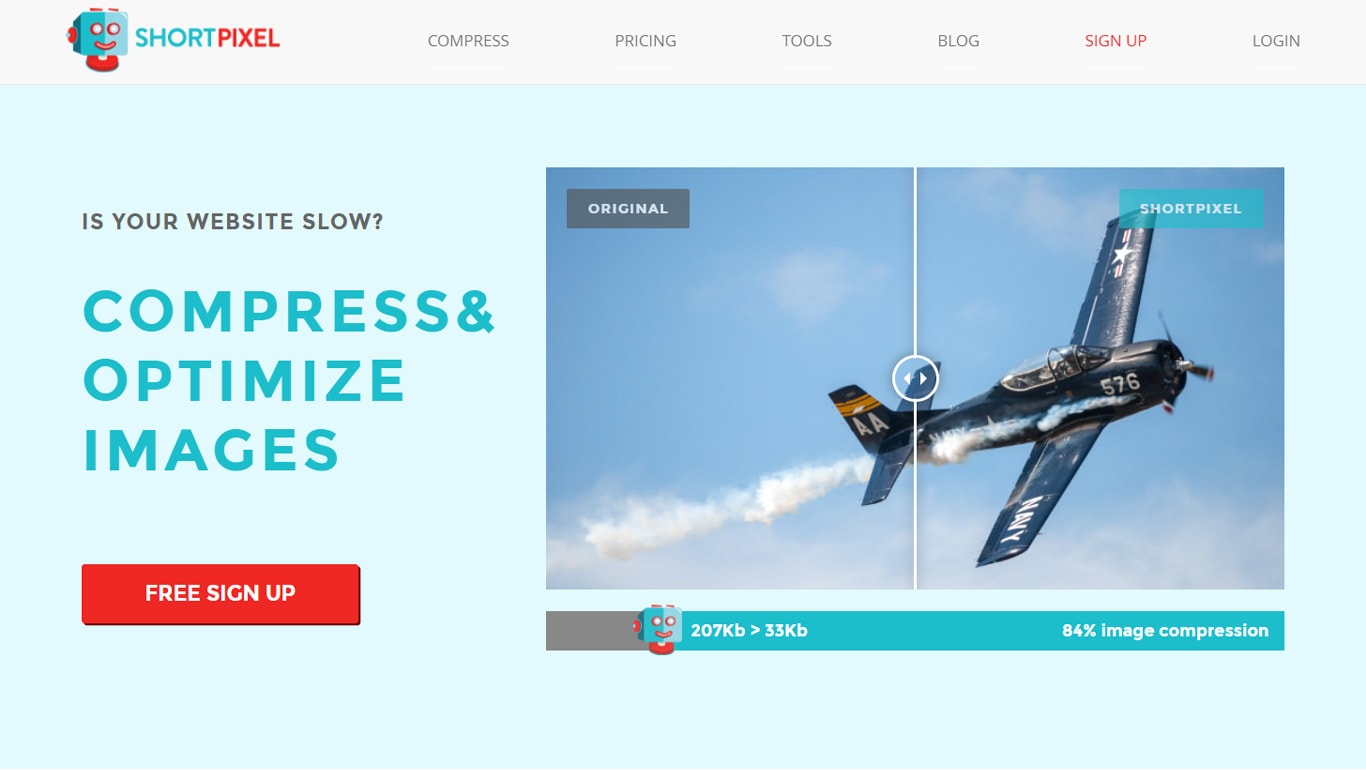 ShortPixel is another popular WordPress image compression plugin with 200,000+ active installs. It connects your site with the ShortPixel API to compress and optimise your images from the comfort of your WordPress dashboard.
We tested ShortPixel and achieved a 55% reduction in image size from 200 KB to 110 KB. It utilises the lossy compression technique.
ShortPixel offers an entire package for compression and adds new compression options called Glossy. it's a fine-tuned lossy optimisation algorithm specifically curated for photographers. you furthermore may get support for popular image formats, including WebP.
ShortPixel gives you access to a dedicated image CDN (Content Delivery Network) which is a globally distributed network of servers. Once a user tries to access your website, it will deliver the images from the geographically closest server, which helps with latency in providing the photos.
This plugin also comes with smart cropping feature to crop and resize the images to fit the screen size and resolution of the users.
ShortPixel has an image lazy loading feature that keeps the other images accessible only after when the users scrolled over that particular image. This feature reduces the initial load for the server fetching the website.
Top Features:
ShorPixel has the following key features:
Supports JPG, PNG, GIF, WebP, and PDFs.
Bulk-optimize images in your WordPress Media Library.
Automatically converts PNG to JPG if that results in smaller image size.
Convert compressed image files to WebP.
Optimized for photographers and allows them to keep or remove EXIF data.
Supports both lossless, lossy, and glossy compression algorithms. The last is optimised for photographers.
No limit on the file size of images that the users can compress to smaller sizes.
Pricing:
The plugin follows a freemium model. The free version gives you the CDN, Lazy Loading, and image resizing functionalities but only limited to compressing up to 200 images per month, with a free account.
If you need to optimise even more images, then you will need to choose one of their paid plans based on images per month:
Free → 100 images/month
Short → 5,000 images/month, $4.99
Large → 12,000 images/month, $11.98
XXL → 55,000 images/month, $54.98
24. Easy Table of Contents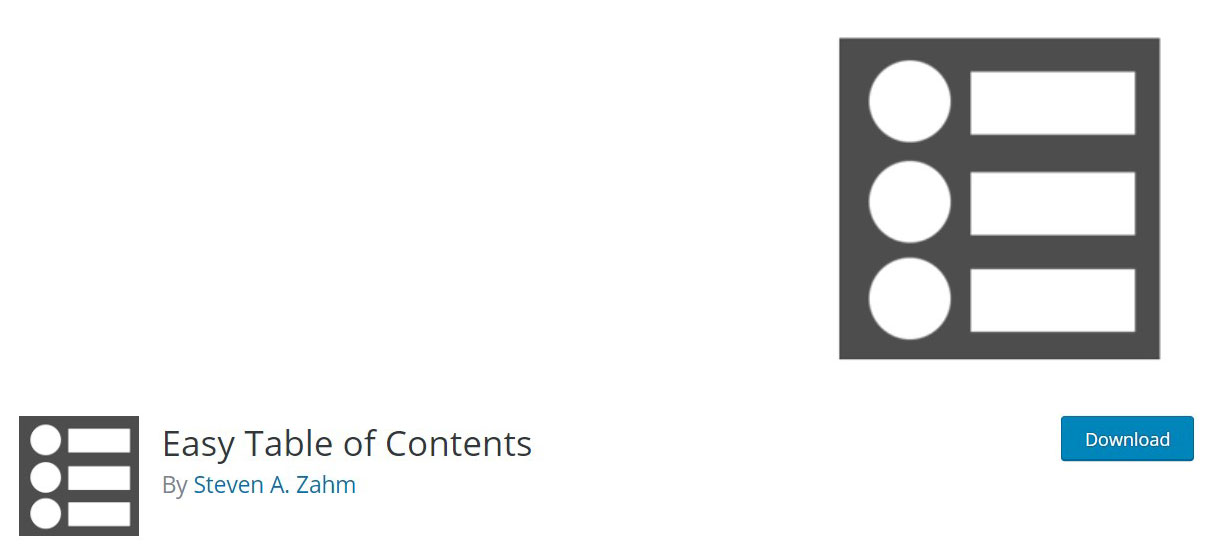 Easy Table of Contents is an easy to use plugin that inserts a professional-looking table of contents into your article easily. It's a featured focused plugin with 200,000+ active installs.
This TOC plugin is fundamental and straightforward for beginner users, also as advanced ones who don't want to waste time over a sophisticated plugin. It automatically collects all the headings from your content and creates a professional-looking WordPress table.
Easy TOC plugin works well with the posts, pages, and custom posts on your WordPress site. you'll automatically insert the TOC into differing types of content, and you'll place the TOC anywhere in your content. you'll also hide the TOC from any short posts that don't need one.
There are five readymade themes for beginners to help them immediately put up their TOC. You can also create your theme based on your preference.
Top Features:
Generate a table of contents automatically for your posts, pages and custom post types.
Supports the Rank Math plugin.
Works with the Gutenberg, Divi, Elementor, WPBakery Page Builder and other Visual Composer page editors.
Provides easy to understand options to insert the table of contents.
Comes with multiple counter bullet formats.
Supports smooth scrolling.
Enable or disable the table of contents post by post.
Choose post-by-post which headings are used to generate the table of contents.
Exclude post-by-post the headers globally.
Developer-friendly and comes with many action hooks and filters available.
Pricing:
Easy Table of Contents is available to use and download for free from the WordPress.org site.
25. a3 Lazy Load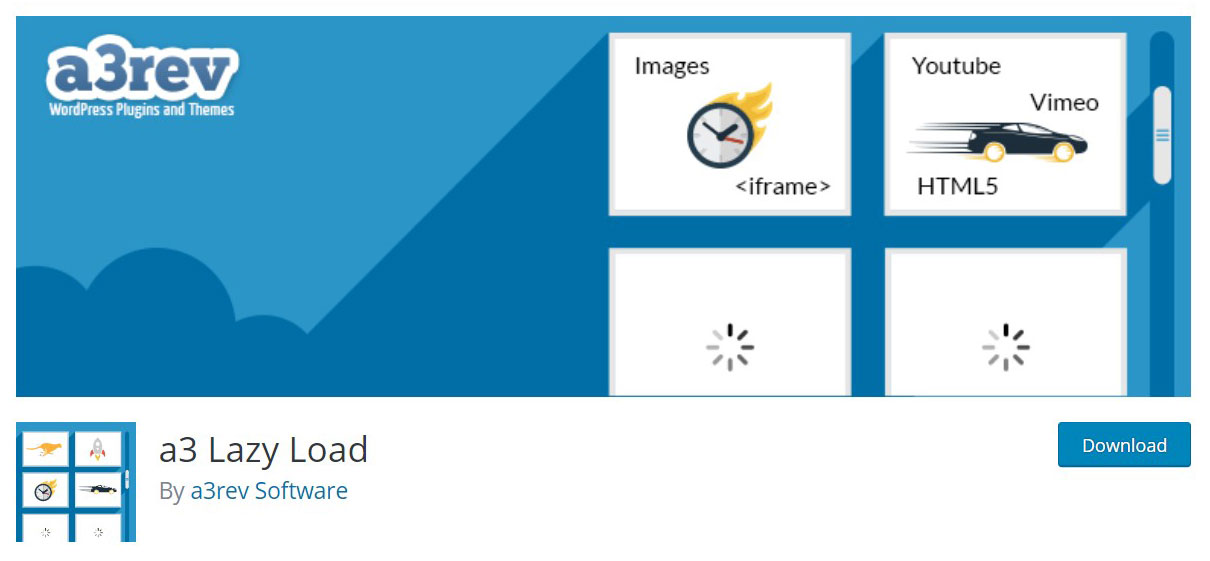 The a3 Lazy Load plugin is one of the mobile-oriented, and very simple to use plugins which will speed up sites load speed. The more content-heavy your site, the higher the plugin will perform and therefore the more you'll see the improvements in performance. The a3 Lazy Load plugin has 200,000+ active installs and was made by the a3rev Software.
The a3 Lazy Load plugin is fully featured, easy to line up lazy load plugin for your WordPress site. you'll easily define what elements are lazy-loaded and once they appear within the users' browser. It supports all video Embeds from popular sites like YouTube, Vimeo and HTML5 video. It is also compatible with most features of the WooCommerce plugins.
WordPress 5.5 introduced lazy loading for uploading images to a site's media library. a3 Lazy Load Image options enhance the uploaded images by lazy loading all the pictures coming from outside of the media library or on older browsers that are not supported by the WP attribute. It works side-by-side with the media library.
Top Features:
Supports all WordPress video Embeds like YouTube, Vimeo and HTML5 video.
Has built-in support for content that is added by iframe from any source in content and widget.
FADE IN or SPINNER lazy loading effect.
Gives you the option to load its script from your sites HEAD or the FOOT.
Can turn Video Support ON | OFF.
Makes embed post load much faster.
Compatible with WooCommerce plugins.
Exclude application of lazy loading to any images and video by class name.
Pricing:
The a3 Lazy Load plugin offers 14 days free trial and then avail the following two options:
$24.99 per month for 5 sites.
$49.99 per month for unlimited sites.
FAQ on WordPress SEO Plugins
After considering and hopefully helping you decide which SEO plugin to use, we'll be answering a few Frequently Asked Questions about these SEO plugins to avoid any misconceptions.
Will Using an SEO Plugin Make Me Rank 1st on Google?
Not on it's own, but it will help.
SEO is admittedly a complicated process with a lot of different factors to take into account. As good as these plugins are they still only take what you input.
You're definitely better with them, but do not expect to magically rank first on Google with common and popular keywords even with these plugins installed.
SEO takes into consideration a lot of things including and most especially content, images, bounce rates, page quality, and other factors that these plugins, even the best of them, cannot set for you.
The best tip that we can give to improve SEO? WORK IT. It's not something that you can do overnight and certainly not with a single plugin. Put the work in learning it, understanding what each item means, and optimizing it with your specific niche or demographic.
Why After I Installed an SEO Plugin Am I Finding That My Rank Hasn't Improved?
As mentioned above, these plugins are definitely useful, but only take what you input.
They do their best in helping you, some automatically, but there isn't a perfect system for this. Try testing and checking all the settings that you set. If you think it's the plugin that has the bug, reach out to the developer. If that doesn't work, check the forums. If all else fails, try another plugin.
Those are rare occasions though, most of the time, the reason they're not working is they aren't set up correctly.
I Need Schema for My Site, Should I Use a Secondary Plugin for That?
Schema is very important to have for your WordPress site. It provides the right context to search engines whenever they are searching your site and it will pair your site or content to the right search keywords.
Before going and installing a secondary plugin, try double-checking the existing ones that you have for these settings. Or you could test it using Google's Structured Data Testing Tool or any other schema testing tools.
The main thing is that while these existing SEO plugins do a great job in making an initial Schema for your site, most of the time, it's either not enough or not suited for the type of site that you have.
One such plugin that we recommend is the Schema Pro plugin by us, Brainstorm Force. It respects and gracefully provides schema markup for those content/posts that Yoast SEO does not cover. At the same time, you're assured that they won't overlap in function because it's just built like it.
Generally, it depends on how your site is set up and what your plans are for your site, but in the grand scheme of things, it's better to check first, and make sure everything is covered. As far as SEO is concerned, it's best to maximize the potentials and make sure we have the right schema set up.
Conclusion
SEO is everything. For novel sites and beginner bloggers on the internet, it's your best tool to get those visitors and followers that you've always wanted. But it's a tricky game with a lot of rules and regulations.
WordPress on its own is SEO friendly out-of-the-box, but to amp up your game, you might still want to consider using SEO plugins to help you out.
And there are a lot out there, so be sure to choose the one you need and only the one. Since most of these plugins will not work properly if in conflict with each other.
What other SEO plugins are you aware of that we didn't mention? Let us know in the comments below.